The last week has been unusual in the number of nice shout-outs coming my way, first with a tip to an oldie but goodie of mine and then my never-ending link to Coca-Cola.  Followed by a couple of print impressions.
OurStage.com is a web-based music community with a proprietary judging software that allows users to listen, judge and rank songs and artists.  I've had my music on there since 2008.
It was habit forming for a while.  Listeners commented on your songs and you made fans and sold a few songs.  The countdown each month to the top 40, 20, then the top 10 and the final was as close to American Idol as I'll get. Never had a first-place finish, but I had several songs from my first two CDs make the top 10, and they would hang around long enough to be "Top 20 for 20" weeks or something like that.  Plus, they even broke rankings down by state, and it was nice being ranked No. 1 in Georgia for a long time.
Eventually, I weaned myself.  Hadn't really paid much attention to it until I got an email a week ago informing me my song "Holding On," off my first 2003 CD: "Finally Over Losing My Mind," had won the Country Channel for the month of August.   I get a $100 Amazon gift card, which makes it the most prize money I've ever won.  Pretty sure that's right.
"Holding On" is on the Jukebox if you want to take a listen.
Speaking of Amazon.  The Kindle version of my book, "The Real Coke, the Real Story" (Random House 1986) will be available Wed., Oct. 9 (as will the Nook and other e-versions).
The hardback in 1986 costs $16.95.  A year later the paperback was $4.50. The e-book  will be $11.99.  Seems a tad high.
Amazing that they would issue an e-book 27 years after the hardback was originally published.  While it did well for me then, I won't be holding my breath for any fat royalty checks, as I can't imagine many folks wanting to read this saga at this late date.
Meanwhile, after a fabulous House Concert at John Glenn's clubhouse in Atlanta last weekend, we are gearing up for a run at the Gulf Coast of Florida.  We'll be playing Wednesday in St. Pete (The Ale and the Witch), Thursday in St. Pete, (The Hideaway Café), Friday in Clearwater (The Independent Bar/Clearwater) and Saturday in Tampa (Sacred Grounds Coffee House).
If you know folks down that way, please send them our way.
Oh yeah:  I made the cover of the Tybee Breeze.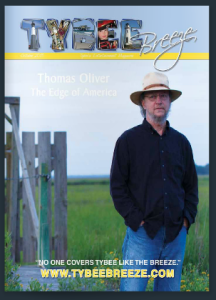 And DoSavannah, the weekly entertainment section for the Savannah Morning News, previewed my First Friday for Folk performance.
If you are interested in receiving email alerts about new postings on this site, please sign up below.