"From toe-tapping, catchy country tunes to haunting, wistful story-songs, the prolific writer [Thomas Oliver] is refreshingly versatile in both style and narrative." — Anna Chandler writing in Connect Savannah.
"Thomas is a  Jimmy Buffett of country music." — Secret City (Oak Ridge, Tenn.) Songwriters Concert
 "A true Americana master…."  The Perk Avenue Coffee Cafe & Coffeehouse (Madison)
Red Line Roots, a blog that reviews Americana, Roots and Folk music, gave a big thumbs up in its First Listen review:
"…in a world of people trying to make country music and falling short, [Thomas Oliver] soars high above the competition."
Bill DeYoung, the music critic poobah of the Coastal Empire at the time he wrote a nice send up of The Edge of America CD, said:
"On tracks like 'The Edge of America' and 'Old Men,' he displays a fine — one might say journalistic — eye for detail and poetic flow. 'The Girl With an Accidental Memory' …is pure left-of-center outlaw Americana."
The full review/story is here
"A beautiful revelation indeed."  From Le Cri du Coyote, a French review of American music.
Dave Lake, a local music observer and radio and podcaster extraordinaire, conducted a well-researched interview with me about my songs and songwriting.
He presents the interview and the songs in four parts. Click to listen.
I made the cover of the October 2013 Tybee Breeze.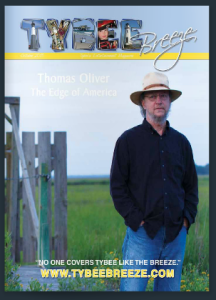 _______
The Savannah Morning News said some nice things as a preview of my performance at the Savannah Folk Society's First Friday.
"…singer-songwriter Oliver knows how to hook you with a punchy line."
______
"Holding On," off my first CD: "Finally Over Losing My Mind,"  won the Country Channel for the month of August, 2013, on OurStage.com, a web-based music community where  users listen, judge and rank artists.    Yahoo.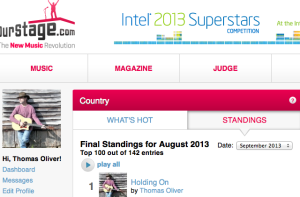 ________
Linda Sickler of the Savannah Morning News wrote up a fairly complete and entertaining profile here
.        ________