If you like your music with a soul based in the roots of Americana, then you're going to love the songs of Tybee Island's Thomas Oliver.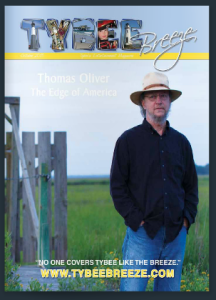 Red Line Roots, in a highly favorable review, wrote: "…in a world of people trying to make country music and falling short, [Thomas Oliver] soars high above the competition."
The Savannah Morning News wrote: "…singer-songwriter Oliver knows how to hook you with a punchy line."
And (Savannah) Connect's Bill DeYoung wrote: "On tracks like 'The Edge of America' and 'Old Men,' he displays a fine — one might say journalistic — eye for detail and poetic flow. 'The Girl With an Accidental Memory' …is pure left-of-center outlaw Americana."
Whether he's playing solo as singer/songwriter, with a lead guitarist or with his new trio, Thomas connects with his audience in a personable, often humorous way.
With lead guitarist Chip Zulliger on slide and Dobro, the two offer a unique blend of classic country, country folk and Americana, plus  several of Thomas'  originals.  They did nearly 30 shows at Bernie's Oyster House on Tybee during the summer of 2013.
Thomas Oliver & Friends is a new trio with a mandolin player and lead guitarist performing old favorites from the roots tradition, like 16 Tons, Corrine Corrina, and Hey Good Looking.  The trio also plays several of Thomas' songs.
In whichever configuration, Thomas delivers, according to Sean McPherson of the Smith's Olde Bar in Atlanta who says, "Thomas is one of my favorites to book because I know he will put on a great show that always leaves them wanting more. Plus he has a very loyal following."
Similarly, Bill Hoover of the Red Light Cafe says, "I love Thomas' music, his professionalism and his fans. He's on time, in tune and delivers a great show."
You can listen to Thomas' songs  on the  Jukebox and find out where he's playing (see Calendar above).
If you'd like Thomas to play your venue, party or special event, contact him at:
Email: thomas@thomas-oliver.com
or toliver.writeright@gmail.com
or Phone: 404-660-4320 (personal cell)